Adeline Lionivia
Role: Sustainability and Specialised Finance Analyst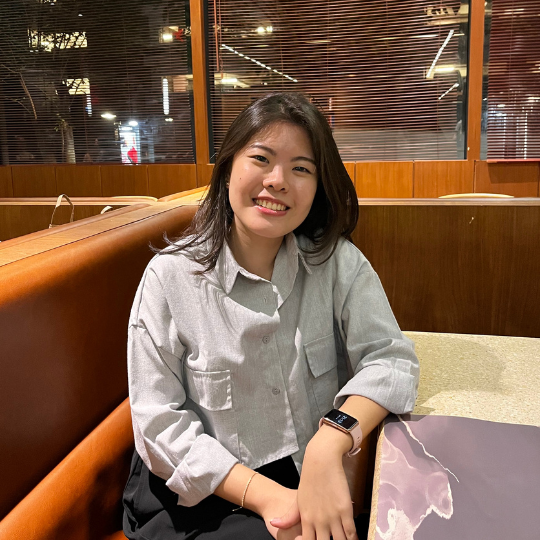 Nearing the time of her graduation, Adeline was on the lookout for internship opportunities. By coincidence, ASYX came up on her radar, prompting her to check out the Company through the website and social media. What caught her attention was the various types of projects from different industries under ASYX's management. She felt that even though her University background was learning about receivable financing, invoice financing, and purchase order financing, which is practically one type of thing, through ASXY's diverse portfolio, she would be able to learn so much more and not be confined to the desk.
In the past two years, she has learned so much, from pushing for innovation to create product value chains, to how to manage accounts and carry conversations around new people and around different environments. Making her pass her internship and be offered a permanent position as ASYX's Sustainability and Specialised Finance Analyst (SSF Analyst).
"I believe today, we need to be inquisitive, open and eager to learn, since we're living in a volatile, uncertain, complex and ambiguous (VUCA) world. Understanding how to mitigate these qualities can greatly improve my strategic abilities, which will lead to better outcomes and prepare me to become a better leader," explained Adeline.
As an SSF Analyst, part of Adeline's responsibilities is to conduct an overview analysis on SMEs, their supply chain flow, and financial performance to identify the best supply chain financing opportunities for the SMEs involved. Most often, Adeline starts her day with daily discussions with her direct line manager about what they plan to do for the day, status updates on what has passed and what they will do through the week. Then, she will go on and manage her time to ensure information mapping, analysis, write-ups and communication engagement happens.
Talking about supply chain related, Adeline finds it challenging to learn about various kinds of industries and their way of doing business. Whereas a SSF needs to find the most suitable financing for their clients, so she needs to keep learning different business models and ways to analyze these businesses. Throughout all the challenges she has been through, she said that these learnings have broadened her knowledge and their clients way of thinking. This correspondence gives Adeline motivation to dive even deeper in research, gathering data, and analysis to enhance her knowledge.
For Adeline, part of the fun and challenge is managing the various projects that come from different industries. She welcomes the challenges because Adeline is very aware of how it enhances her skills and capabilities. In addition, Adeline feels that ASYX has a nurturing environment where everyone contributes to making the working environment positive and open to learning.
As Adeline needed to jump into the next meeting, we ended our interview by asking her how she sees herself in the next five years. "I want to be known as a professional expert in my field. I want to take on more projects, clients, and partners. I want those around me to benefit through my expertise which I've gained with ASYX," she said.
We have no doubt Adeline is going to achieve her vision and dreams. Just recently, she completed her certification as a Financial Modeling and Valuation Analyst. In doing so, she has now developed more knowledge and skills in creating various financial models, streamline budgets, process forecasts, and advise on how to improve competency levels across the entire accounting and finance spectrum. In addition, Adeline is also pursuing in Commercial Banking and Credit Analyst (CBCA) Certification, which will provide greater professional development in financial analysis, credit structuring, and a wealth of qualitative skills, such as management and industry analysis, effective business and credit writing.