Andre Prizasaputra
Role: Corporate Affairs - Human Resources & Parnership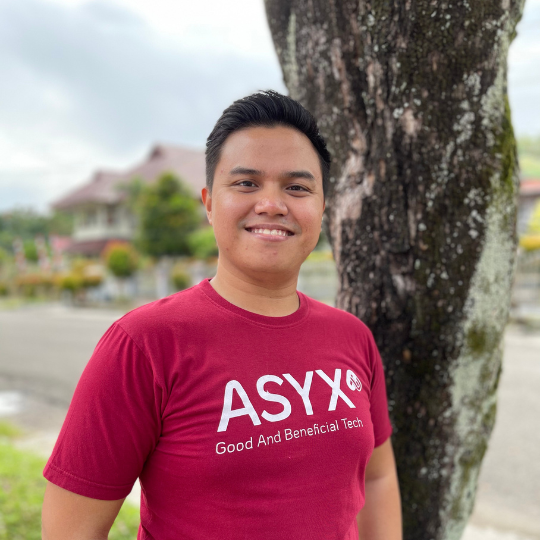 Andre Prizasaputra #LifeatASYX
"The way I look at a company and how it works, is similar to viewing a soccer game, i.e., you need a set of agreed strategies to win, good team-work consisting of skilled players, and tenacity. Selecting skilled players is not only about verifying that players' background, but also assessing their character beyond what is written to understand what they are capable of and how they can integrate with other members of the team to support the company's development objectives," said Andre Prizasaputra, ASYX Corporate Affairs - HR & Partnerships.
At ASYX, Corporate Affairs is a valued partner in supporting the Company to reach its mission and goals. Its role goes beyond managing and ensuring that the Company's operations are in sync with existing policies, procedures and regulations, but also help employees see how they can accomplish their work goals in service to customers, while developing themselves personally.
This is the core of Andre Prizasaputra's current role and responsibility. Andre started his career at AYSX with the Impact & Industries team where he supported various ASYX projects in developing communities and SMEs. Since then, Andre found his passion working with people and started his journey leading the Talent & Human Capital department in the Corporate Affairts team.
Hence in his daily capacity, Andre seeks to understand fully the company's needs first. In collaboration with Team Lead, Andre will support recruitment, skills development and retention of professionals at ASYX.
For ASYX, it is particularly important to weigh whether the candidate is driven to learn and adapt, which is a vital skill based on the Company's Work from Anywhere (WFA) policy of either Work from Office (WFO) or Work from Home (WFH). One of ASYX's credos is "People first" so the company believes in the importance of providing an encouraging environment to create positive mental health and mindset.