Natalia Purwani
Role: Project Management Officer of ASYX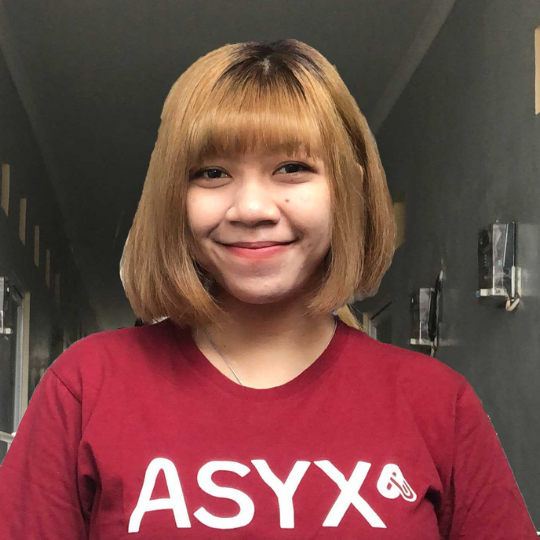 Natalia chose to work at ASYX because they were the first company where I applied to that accepts vocational graduates like me. Among the many companies she applied to, ASYX is the first company she knows that opened equal opportunity for vocational graduates like me; ASYX was willing to give me an opportunity, even though I was not a "Fresh Graduate."
I don't consider myself good at math, but I've always liked doing it, which I get to do through my role as a Project Management Officer at ASYX. There are some of my colleagues who constantly make me laugh with their quirkiness. Everyone in ASYX is always open to share their knowledge with one another, be it from the leadership all the way to the other staff. All this support and positive working environment makes be grow and be enthusiastic about my work.
So to sum it up, working while learning is a really fun thing to do!
Currently she is also doing my undergraduate studies while working. For Natalia, it is not too difficult to balance between work and studies. Instead, it is fun because it's been one of my life's goals, which is to attend University.
Natalia lives by this principle that after graduating from high school she will not ask for any money from her parents, especially to continue with my studies. So I'm quite proud of my hard work in being able to be independent without the help from my parents.
Natalia really happy and proud of myself. My life feels more useful, because she can still gain knowledge with my own sweat and money. Even though there is a lot of work and less time, it won't be a problem. Just live it, even if there is sustenance, she will continue to pursue her studies until she gain her doctorate. If in the future there's a higher degree, she would like to work hard for that too.