About Us
ASYX is a financial supply chain management firm based in Indonesia and Singapore, specializing in software solutions and services for both the physical and financial supply chain. We work with organizations across the industry, producers, distributors, retailers, and service companies in Indonesia, Kenya, Hong Kong and Singapore.
We assist our clients to navigate and integrate financial supply chain processes. Our team helps shape technology use and business practices, so that any business owner, management team, and external parties can work together with higher efficiency and transparency.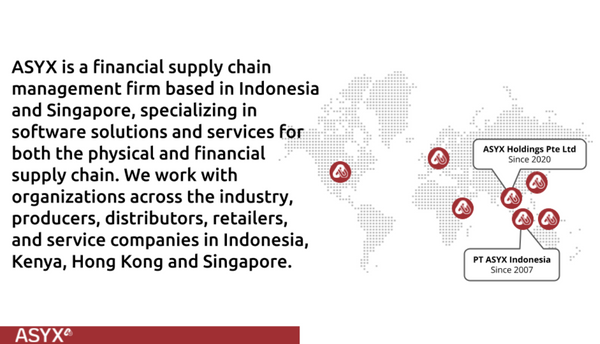 22 mln +
Purchase orders processed
9 mln +
Invoices processed
USD 4.5 bln
Total financed volume
Products
Our products seamlessly bridge the gap between the physical and financial supply chain, revolutionizing the way businesses operate. Combining cutting-edge technology with industry expertise, we offer innovative solutions that optimize efficiency, reduce risk, and drive sustainable growth. From streamlining procurement and logistics processes to providing intelligent financing options, our integrated platform empowers businesses to effectively manage their supply chain from end to end. Whether it's ensuring seamless inventory management, optimizing cash flow, or mitigating financial risks, our products provide a holistic approach that unlocks unprecedented value and transforms supply chain operations. Experience the power of our solutions and elevate your business to new heights in the ever-evolving landscape of both the physical and financial realms.