On March 22 2022, ASYX Advisory Project Leader, Diana Octary shared her experiences at the G20 session: Empowering Women Entrepreneurs Through Inclusive Business.
In Indonesia there are 64 million businesses dominated by micro-entreprises, of which 64% are MSMEs led and owned by women. However, there remain several challenges to empower women. First, the level of social expectations which differ depending on geographical location and predominant culture. This is also related to the women's level of education, exposure to other cultures and their ways of life. This pressure on the gender roles leads to the lack of confidence and difficulties to find a support system for women entrepreneurs. All of these challenges make it more important to improve the level of digitalizations for MSMEs in Indonesia.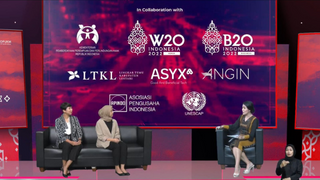 "Women entrepreneurs are able to empathize, design, and run programs that are specific for women." - Diana Octary said.
ASYX also believes in supporting participants with the ESG concept. But what is ESG? Are the MSMEs familiar with this term? ASYX conducted three activities to test this question; Focus Group Discussions, In-depth Interviews, and Research & Field Visits. From these activities, ASYX found that most of our participants were not familiar with what ESG is about.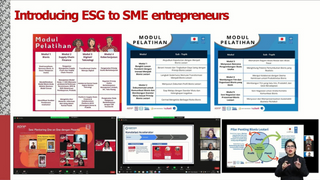 How did we introduce digitalization and ESG to them? We used various collaborations, social media platforms and other online communication channels, all with the focus to support Women Entrepreneurs. One of the examples Diana shared was ELATI Nusantara, a program developed in collaboration with the United Nations of Capital Development Fund (UNCDF), which has enabled access and onboard MSMEs of which 73% are women.
At the G20 session Diana also shared about our program in collaboration with the United Nations Development Programme (UNDP) and the Government of Japan, named Bisnis Lestari (Sustainable Business), to assist the transformation of Indonesia's MSMEs for Green and Inclusive Business Recovery.
ASYX will continue to support entrepreneurs, especially women entrepreneurs, as we are proud to be a part of this process and aspire to continue our #GoodandBeneficial work.
For more information, watch the event on this link, https://bit.ly/G20_youtube